About Audrey Owen
Author of Amazing British Columbia
The Earliest Years
I talked early.
And I talked a lot! I still talk a lot.
I also learned to read very early. Long before I went to school, my mom talked to me about pictures in books and read to me from books that other people thought would be too hard for me to understand.
Thanks, Mom.
Every week my dad brought home the groceries. And every week there was something special in the grocery bags for me...
...a book! Those weekly books were The Little Golden Books.
Thanks, Dad.
For birthdays and Christmas I always got books as gifts. I couldn't wait to curl up in the big green chair and lose myself in another world.
Thanks, Grandma, Grandpa, and all my aunts and uncles.
Besides teaching me to read early, my parents encouraged my imagination and taught me to love the natural world.
My imaginary friends, Alice and the little foxes, would often run behind our car and my dad had to stop to let them in.
Using My Words
It seems to me that I always wrote things.
Letters
Journals
Stories for my students
Newsletters for parents
Poems
I wrote to tell what I was thinking, and I wrote to figure out what I was thinking.
I always think better with a pencil or pen in my hand.
Getting Better
Lots of people told me I could write. But I thought everyone could, so I didn't pay much attention.
Then I had a teacher in Simon Fraser University who showed me how to make my writing better. I began to practice writing.
Next, I took a special course that helps people to learn to write for children.
Writing Set Free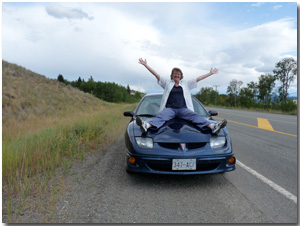 While I was taking the course about writing for children I had my first magazine article published. I was so excited! People would pay me to print my words so other people could read them!
Now I have my first book flying around the world, telling people I've never met the things that amaze me about the wonderful place I live. And I have other books flying around in my head, waiting their turn to come out and meet everyone.